Fine Art Paintings
by Alison Davis Lyne



Most of the work here is work that I have done for myself, to record a beautiful autumn day or to show a juxtaposition of ideas.
This painting is also part of my "flower power" series. It's called SURPRISE! Lilies. I painted it from one of something like 100 photos I shot of theses lovely lilies. They are on my walk pathway, so I see them each morning in varying lights. This time I saw a lovely glow that happened when the morning sun shown thru the trumpet shape of the flower. I couldn't resist photographing it for a watercolour/colored pencil piece. I had a ball planning the glowing light placed against the dark green of the shadowed background.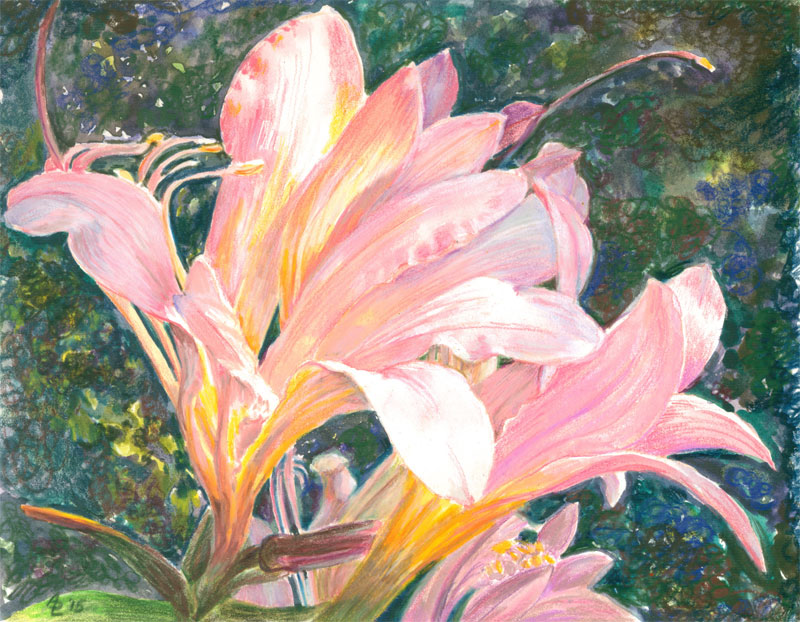 SURPRISE! Lilies
$200 - watercolor and colored pencil on bristol board 11 x 14 inches
This painting is part of a recent series of "flower power" paintings I've been working on. I've been fascinated by the lovely colours you can find on some of the smallest, overlooked flowers. This stem of flowers is from a stick tight plant. Their strategy is for their seeds to cling to anything or one that brushes against the plant. To that end they are covered in very fine filaments, both the stems and seed heads. Yet from this "sticky" forest, blooms the prettiest flowers. They start out a blushing pink, and as they age they turn a lovely pale blue. That is the colour that first caught my eye. I captured this sprig after it had been loaded down with dew drops, clinging onto the stick tight's filaments.
Stick Tight to Me, Baby- $150 – Acrylic paints on masonite
This "painting" is a bit unusual for me, in that it is a combination of media. I drew three different views of a lovely iris from our yard, all in coloured pencils. They are covered by glass inserted in the black frame. I then painted the frame's black color, and painted, (on the frame) yet another view of the iris. I "connected" the coloured pencil iris drawings with the full painted iris on the frame, with a swoosh of background grass.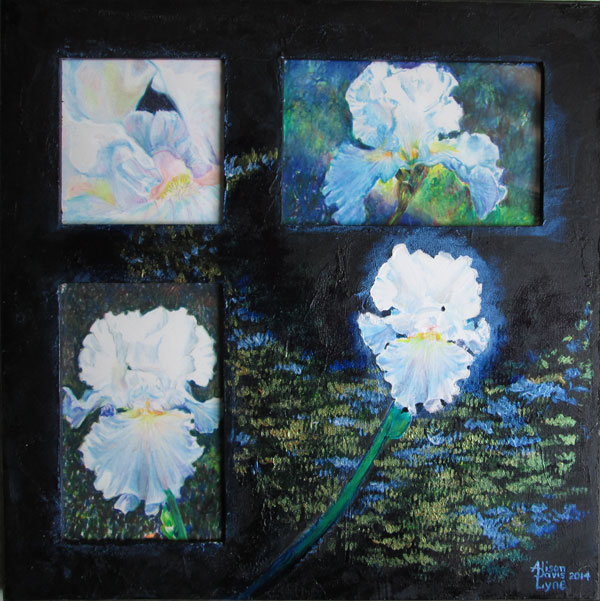 Iris x 4: $200 – Acrylic paints on frame, colored pencil drawings behind glass windows
This painting is a recent work that puts forth the idea that you might be able to change your world a bit, by painting in your mind the things you'd like to see, and let the cold unfeeling stones of old buildings fade into the background.
Paint My World: $400 : Acrylic on gessoed masonite measures 16 x 20 inches
In Their Dreams is my take on what might have been "reflected dreams" of these four young women posing in the park in the early 20th century.
In Their Dreams : $500 : Acrylic on gessoed masonite : measures 16 x 20 inches
Oriental Play (Spring 2006) is a watercolor showing what happens when two curious toddlers find the tail of a kite just ready to swoop "up, up and away"! It is mostly done from photos by a friend who frequently visits China.
Oriental Play: $400: Watercolor: measures 16 x 20 inches
Lands End is an Irish landscape taken into a dreamworld, where multiple waterfalls crowd the white cliffs and castles perch on a scene that is at the end of the known world.
Lands End : $600 Acrylic on masonite 28 x 34 inches
This painting, Reach, just sorta popped into my head when I was looking for an idea to express a hopefulness for everyone who creates art......to reach to make your ideas real!
Reach $150 15 x 20 inches Acrylic on Canvas board
This next painting A Question of Stripes, started out as a mixed media project, using some cloth that had a raised pattern, and some speciality paints that I'd been wanting to experiment with. When I got through with the stripes......I just couldn't resist the addition of some gel medium flowers, in the pattern of a question mark. Sometimes a painting ends up naming itself.....hence A Question of Stripes! After a year or so, I decided that it wasn't quite finished, so I added the female figure......NOW it's finished!
A Question of Stripes $400 16 x 20 inches Acrylic paints on cloth covered masonite
These next three paintings are associated with nature but are not exactly landscapes. Swimming Hole is a view of our Whip-o-Will Creek, with a summer's day swimmer searching for his towel. Blue Snow is in the winter and captures the brilliant hues that reflect off of a melting snow fall. And finally Jacob Ladders shows a spring favorite being visited by a large winged butterfly.
Swimming Hole $250 12 x 18 inches Acrylic---------------------------------------Blue Snow $150 9 x 12 inches Acrylic---------------------------------Jacob Ladder $75. 9 x 12 inches Watercolor
all materials shown here are copyrighted by the artist
return to – Lyneart Main page – Frank Lyne Wood Carvings- Alison Lyne Illustrations