Alison Davis Lyne's
Historical Illustrations
I've been working on a painting series about the effort to win women the right to vote. The 100 year anniversary for the passage of the 19th Amendment is in August 2020.
Whether you call them suffragist (correct term) or suffragettes (dismissive term used by "yellow press" (yellow press were the tabloid journalists of the last century), the passage of the 19th Amendment (granting women the right to vote) was a hotly contested issue in the late 1890s all the way up to it's passage in 1920.
Whether you were Susan B. Anthony, Elizabeth Cady Stanton, Lucy Stone Alice Paul,Carrie Chapman or a well to do wife and mother in Kentucky, most women faced challenges in engaging in public political life. Women's rights (political or personal) rarely extended beyond being able to vote in electing a local school board. The right to vote movement was a tapestry of marches, meetings, women's luncheons and talk over the back fence. It involved networking, extensive writing, speech giving and debate. It also involved woman to woman talk and discussions with the men in those women's lives to the end of persuading enough male citizens that a woman's right to vote was a good thing.
In November of 2018 Frank and I had a three month show at the Clarksville Museum in which we showed both past works and our latest pieces with the suffragist theme. To see more about Frank's large scale sculpture, Prelude to the Affirmation of a Right, please click thru to his page...Frank's Page.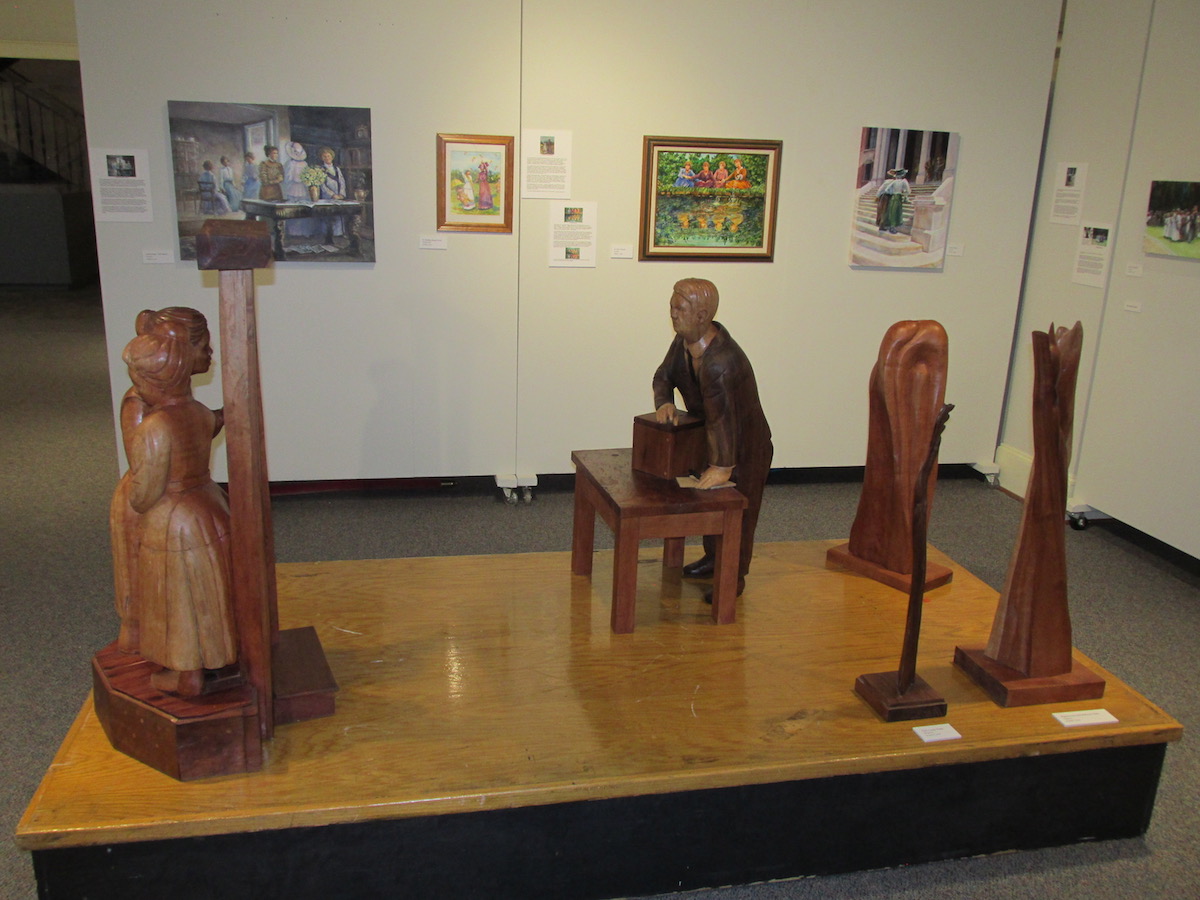 Suffragist portion of our 2018 show at the Clarksville Customs House Museum
Below are details about each painting in the series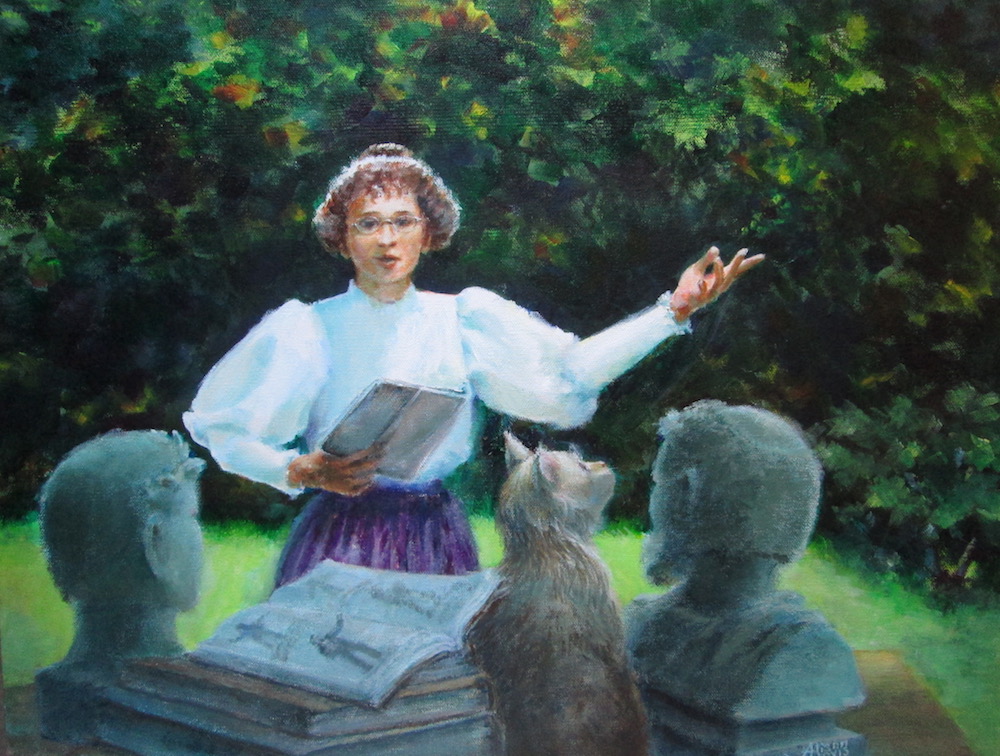 SPEECH PRACTICE
Or portrait of Kentucky suffragist Josephine Kirby Williamson Henry
18"x24' acrylic paint on gallery wrapped canvas $500
1843-1928 Kentucky writer, speaker, political advocate for women's rights. Born in Newport KY and later moved to Versailles, KY. She married Capt. Wm. Henry in 1868. Both were involved in local/state community affairs.
Josephine Henry was instrumental in getting passage of Kentucky's Married Women Property Act or the Husband and Wife Act in 1894. This bill allowed women the right to own property in Kentucky, overturning old laws preventing women from owning property, receiving wages, making a will or even be guardians of their own children. Passage of this bill, was a crucial step in women winning the right to vote in Kentucky.
I set this painting of Josephine Henry in the 1880s, early in her career as a political activist. I figured that most suffragists don't start out that way.....they grow and "learn" their way into being an activist. I envisioned Josephine Henry practicing speech-making in her backyard. Her audience is made up of plaster busts of Homer and Cicero (a famed Roman orator) and a curious cat. Open on the table is a book published for speakers around this time, showing suggested arm gestures for the most dramatic impact in making their point. I liked the contrast of a woman making an impassioned speech to a male "audience" and using a help manual written entirely for men.
Like many women activists of the time, Josephine Henry came from a well to do family. She had the time, books and support to learn about political issues and developed the will to actually make change happen. She authored pamphlets on women's equality. She lectured throughout the state, and wrote hundreds of articles and editorials for newspapers.She co-founded the Kentucky Equal Rights Association. She died in Versailles after a stroke at the age of 85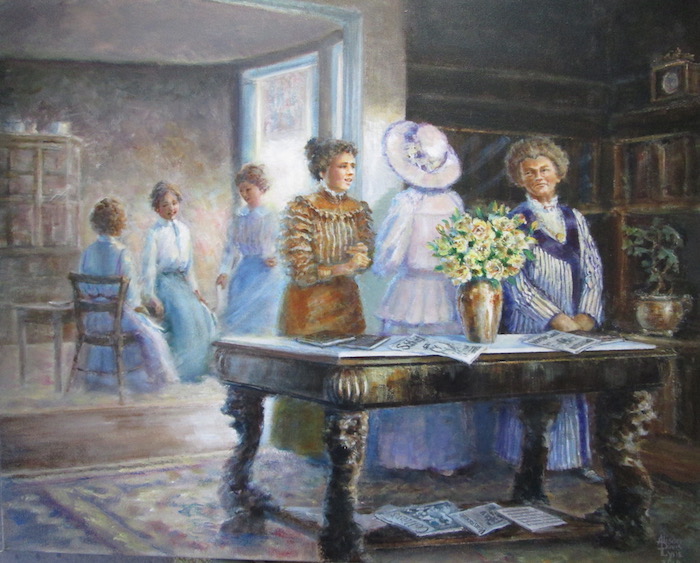 Networking Old School
24"x30" acrylic on gallery wrapped canvas $600
This painting began with the intent to show the small moments that make up the big tapestry of a movement.....such as the drive to pass the 19th Amendment, allowing women to vote. I became interested in local suffragist gatherings or networking meetings, away from the big city marches and rallies. As I researched more about the decades long movement to pass the women's right to vote legislation, I began to see that woman to woman networking formed an important back bone building up to the political event of the 19th Amendment.
With the help of local historian, Brenda Harper I learned that two of the leading Clarksville suffragist women of the era were Lulu Epperson, who owned the Montgomery Hotel (in the gold dress) and Emma Lupton, the meeting hostess (in the purple stripe dress). Clarksville Equal Suffrage League often had meetings at members' houses, and I'm showing one that happened in fall of 1918. I imagine that normal social chatting and drinking of tea was intermingled with discussions of suffragist news. I have Lulu Epperson animatedly discussing a point with another member in a white dress, while Emma Lupton looks on with interest. The white dress, along with yellow roses were symbols of the movement.
The interior of the house was painted from a period photograph in the Austin Peay State University, Felix G Woodward Library, Archives and Special collections, which they so kindly provided the permission for me to use as source material for this painting. Just which home was featured in the photo is unknown .....but I found it irresistible as a setting for the meeting. The beautiful marble top table formed a perfect focal point for suffragist newspapers.
In such meetings I imagine that both established members of the suffragist movement like Lulu Epperson and Emma Lupton would have talked about current issues regarding the movement. In the background room, I've featured some of the younger women who might not be full members yet, but are enjoying the opportunity to gather and chat. Social connections made at such gatherings would have been a wonderful starting point for local suffragist groups.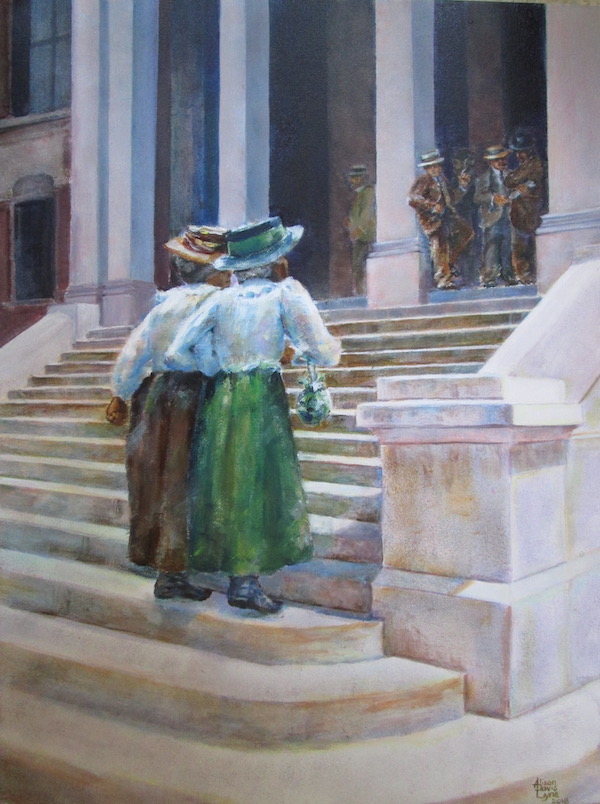 Up the Stairs
18"x24" acrylic on gallery wrapped canvas $500.
I love to tell visual stories of the "small events" that snowball together to make a really BIG happening.
This painting takes place on a hot August day. Women had just won the right to vote with the passage of the 19th Amendment. That passage of the 19th Amendment, happened after Tennessee became the last of the 36 states needed to pass the constitutional amendment. Newly enfranchised female voters had to register before going to the polls to actually cast their votes. These two women are doing just that at the Clarksville courthouse.
Using the restored Clarksville courthouse as my model, I painted these two ladies in their lovely "Sunday best" hats trudging up the stairs in the hot August sun. I also imagined a few men hanging out at the courthouse doors, looking on some what disdainfully as the two women climbed up the stairs to exercise their right to register to vote.
Going up the stairs or a "ladder" to success was an often used metaphor in political cartoons of the time. I painted the metaphor as it might have been in real life.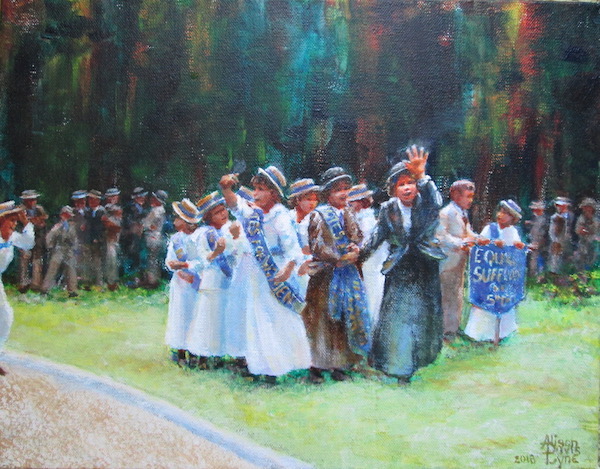 Before the March
11"x14" Acrylic on gallery wrapped canvas $200
The idea for this painting started out with an old black and white photograph. It featured a group of lovely young ladies in white, standing stiffly in front of some courthouse steps. The young ladies all had sashes saying: "Votes for Women", and carried a banner saying Equal Suffrage'. I imagined the pretty young ladies in white being shepherded by the two women leaders in dark suits and bowler hats.I couldn't help but wonder what the scene might have looked like as they were gathering together before their march.
As I began to design a composition, I settled on a sunlit bit of grass for the suffragists to gather together into their march formation. All the young ladies were in white.....a symbol of purity that the suffragist movement used extensively. I really wanted to highlight the young ladies' white dresses and straw hats or "boaters" against the contrast of the shadowed trees. I also wanted to add in, in the background, a few male onlookers scoffing at the gathering. The symbolism of the gentlemen in dark suits and hats, lurking in the shadows of the trees against the white of the sunlit young women's dresses was a compositional perk not to be wasted.
I also liked the "messaging" of the two march leaders.....dressed in "serious" dark dresses and suit coats with the "take charge" bowler hats....the kind of hats that were usually only worn by men. I did want to note that there were in the photograph, a couple of men in the group....whether sweethearts, brothers, or "suffra-gents".
Public marches by women was unique enough in this time period, to easily draw positive media attention. Add to that the white dresses and attractive appearances of those (often young) marchers, and you have a very useful political tool for the suffragist movement.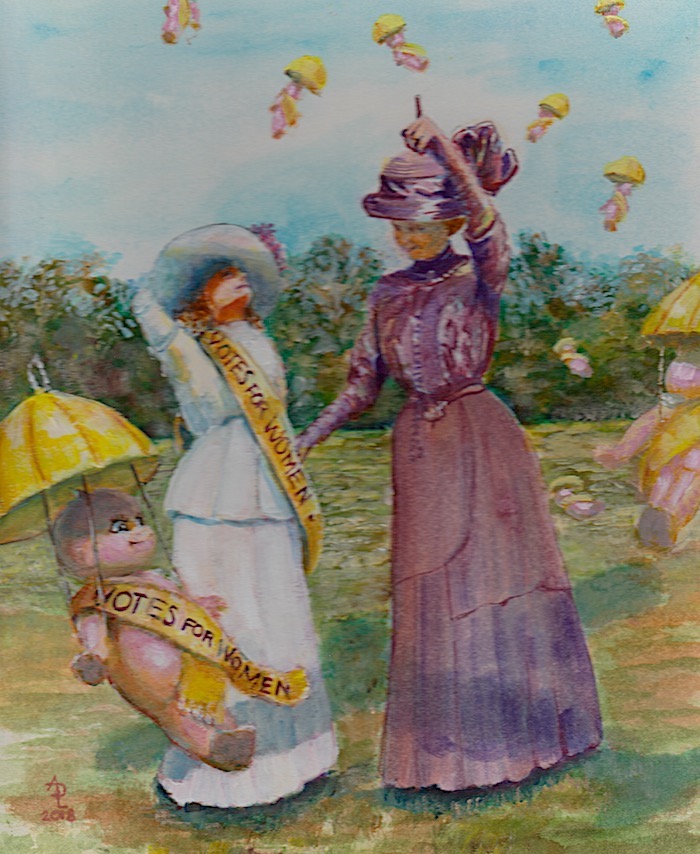 It's Raining Kewpie Dolls!
11"x14" watercolor and a bit of acrylic on watercolor paper $150
In my reading I came across a neat story about what would be called today a "media event". Apparently in November 1914 a convention of the National American Woman Suffrage Association was held in Nashville Tennessee. A week after the convention, at the Nashville Fairgrounds a female pilot, Katherine Stinson staged an air plane demonstration. As she flew over the assembled crowd, she let loose a shower of Kewpie dolls with little banners saying "Votes for Women". The itty bitty dolls floated down on tiny yellow parachutes. Well, I couldn't let an artistic opportunity like that pass me up!
A quick bit about Kewpie dolls......they were popular line of figurines based on illustrator Rose O'Neill's cherub-faced comic strip character. She became one of the highest paid female illustrators in the country from the use of the Kewpie image in advertising as well as sale of the dolls. They became a household name.....and in addition to appearing on a throng of household items, were used by Rose O'Neill to promote the women's suffrage movement.
Needless to say, I was quite gratified to learn that in that even in that era (1910), a (female) illustrator not only thrived.....but flourished with her art!
This painting happened in two steps.....I painted the figures first....but didn't have a proper story about what they were doing. The two female figures in the painting, came from an old 1900 sepia toned family photo. I was so intrigued with their poses I just HAD to paint them. The shadow of the airplane and the floating Kewpie dolls came later while researching the suffragist movement story.
I got to tell a bit about a past era's effort to win the vote for women.....and got a great story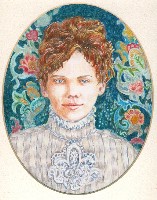 1900 Portrait
8"x10" colored pencils $100
I did this a while back just because I fell in love with the ornate lace patterns. Here's a bit more about how she all came about. BLOG POST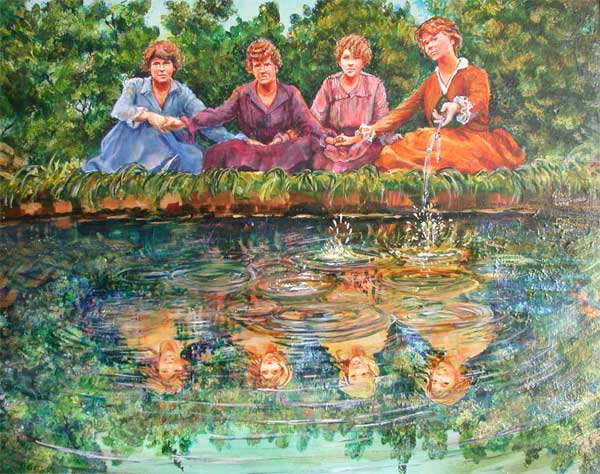 In Their Dreams
16"x20" acrylic on masonite $500
This painting came about after finding a treasure trove of old family sepia toned photos.
Back in that day.....1900 or so.....selfies were more about staying still for the slow camera shutter. It became popular to stage little set ups or tableaus, often some what "neoclassical" based.....i.e. Greek or Roman imagery. This pose of linked hands, symbolizing sisterhood, harks back to art work like the Canova "Three Graces".
The rest of the series of these old time photographic "selfies" showed these lovely ladies all decked out in high style dresses with big hats, accompanied by beaus. By the time this photo was taken they had relaxed a bit, opened their high collars and were sitting by the pond. I found the expressions to be a bit tired, lacking the sparkle they had before. It got me to wondering if all the work of making those tightly crimped hairdos, wearing tightly laced corsets and heavy dresses was wearing down their previous exuberance. I also considered the possibility that the weight of the restrictions and responsibilities placed on young women of that era are showing thru in that more relaxed photograph.
I decided that I would paint these lovely young ladies both as they appeared in the old sepia toned photograph and what I imagined they might have looked like freed from the restraints of the day to day restrictions placed on their activities. Using a time honored cinematic symbol of
inner thoughts, I had one of the young ladies tossing pebbles into the pond, and showed the movement of the resulting ripples resolving into the happier faces of a more "liberated" version of their selves......"in their dreams".
Here are links to some other pages featuring my historical illustrations.
| | | |
| --- | --- | --- |
| The basis for this Indian Maiden were photos taken in the late 1800s of Native Americans. I was commissioned to draw different Native Americans in their home environments for a interactive display for the Kentucky History Museum. You can see more about it here on my INDIAN page. I was also lucky enough to be commissioned to illustrate a children's picture book "On Earth As It Is In Heaven" by Linda Leaf-Bolin. The book was a Native American view of the Lord's prayer. | This page is all about a recent book I painted five images for: T is for Todd County. It was done as a fund raiser for the Todd county courthouse restoration project. The book was written by Carolyn Wells of Todd county. The other lovely images in the book were done by a host of talented Todd county residents. | The inspiriation for the American Revolutionary woman is the story of Molly Pitcher. I became interested in her story when I wanted to explore sequential art....as a form of visual storytelling. I went on to do a five page "story" of Molly Pitcher, and a seven page story about Mercy Otis Warren, and finally a three page short about Thomas Paine. You can see about all of them by going to my Sequential Art main page. |
All materials shown here are copyrighted by the artist
return to – Lyne Art Main Page- Alison Lyne's Illustrations - Frank Lyne Wood Carvings