Alison Davis Lyne's
Historical Sequential Art
This page is a beginning exploration into sequential art/graphic novel art/comics art with a historical theme. I have become very interested in the graphic novel/comic, or as Scott McCloud says in his books (Understanding Comics,Reinventing Comics and Making Comics), sequential art.
I have illustrated eight children's picture books, but I always wanted to DO MORE. At an early age I was greatly inspired by the illustrators of the last century....the 20th.(Hey..... I'm not that old!) I love Maxfield Parrish's colours, and Howard Pyles' storytelling, and Alma-Tadema's grand historical sweeps of colour. But, now a days, with video games and movies, historical stills just don't cut it any more. The book publishing industry mostly publishes colour artwork with children's books....which in turn are only read by the very young readers. Most all young adult books only have words. I certainly don't decry the noble art of word-smithing, but I would love to see the visual richness of video games pulled back into mainstream young adult literature.
Over the past twenty plus years, Japanese manga artwork has had done just that. They have made graphic novel stories for just about every audience you can think of....adventure, comic, boy meets girl ( and just about anything else...), tragedy, historical and science fiction. Their artwork is extremely stylized, with the iconic huge eyes, small "barely there" nose and stock expressions. In America, other than the also standardized super hero genre, very few (not manga) publications have made it onto the crowded bookstore shelves. I'm an big admirer of a current day illustrator working on the "historical side" of the graphic novel - sequential art side of the business; Mac McCool. He has a neat blog that has intriguing hints about his graphic work in progress "Boston 1775". I'm looking forward to seeing more!
I am exploring the concept to see if there might not be another pathway of telling a story, that could excite both the mind and eyes of a youthful viewer/reader. I have always had an interest in the historic, and feel that history can be made fresh again, thru sequential art. At least I find it a neat way to combine telling a story and showing a story. Even something as simple as getting dressed...in past times can be drawn in a three panel style: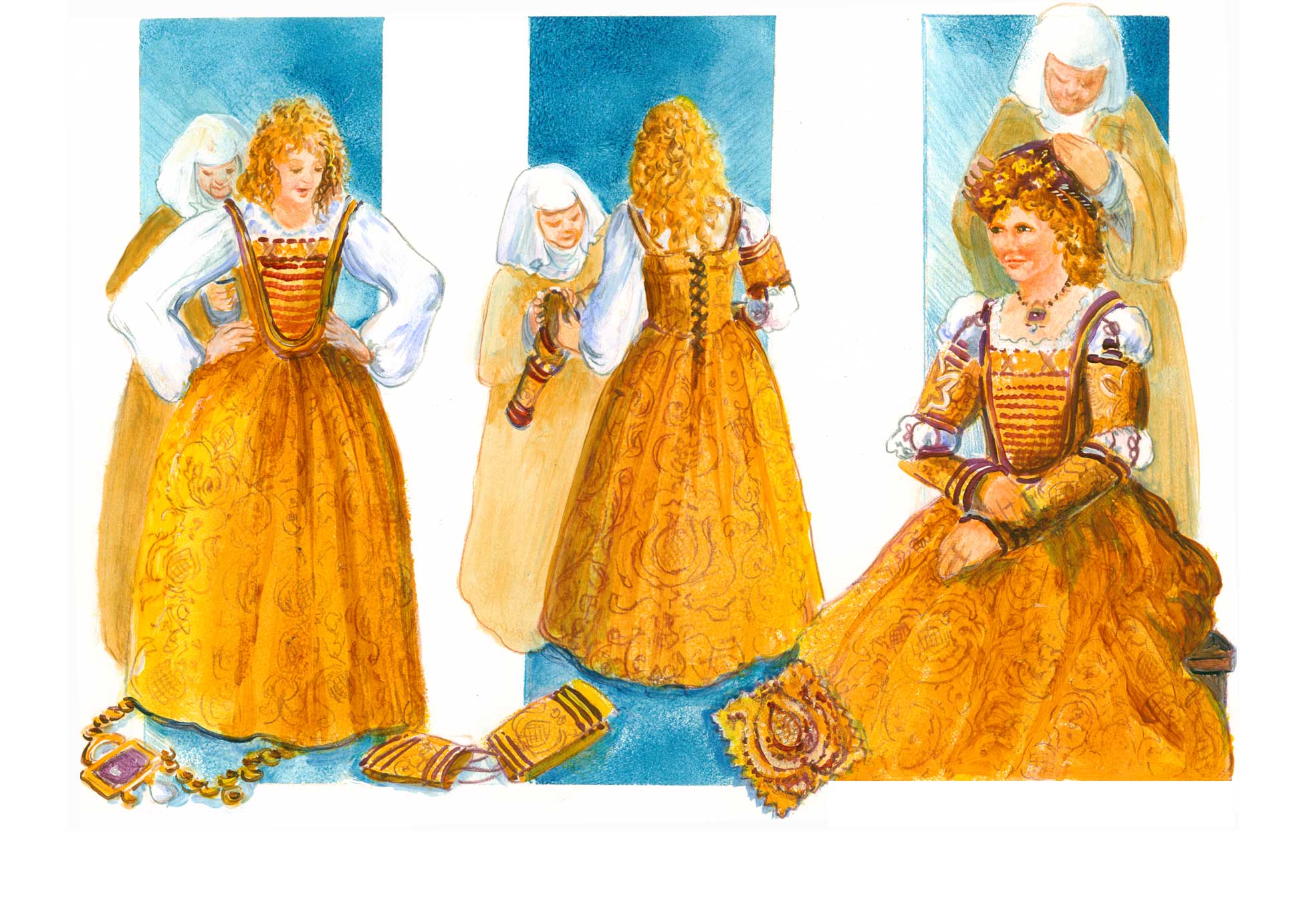 I've worked up three different sequential "shorts" on three American Revolutionary War heros, Molly Pitcher, Mercy Otis Warren and Thomas Paine. You can see more about my sequential art "historical shorts" by clicking on the pictures below.
| | | |
| --- | --- | --- |
| MOLLY PITCHER | MERCY OTIS WARREN | THOMAS PAINE |
If you have any comments or suggestions, please write me at alison@lyneart.com
Return to -- Alison Lyne Illustrations - Frank Lyne Sculpture – Lyneart Main Page