T is for Todd County
Alison Lyne illustrations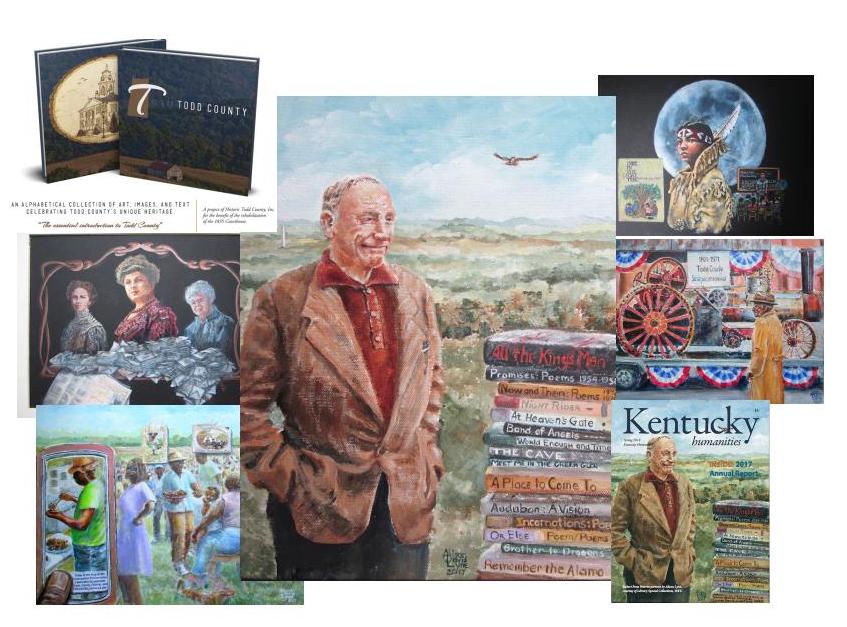 These are the five paintings I painted for the book T is for Todd County, a fundraiser for the restoration of the Todd county courthouse.
Please scroll down to see more about each image.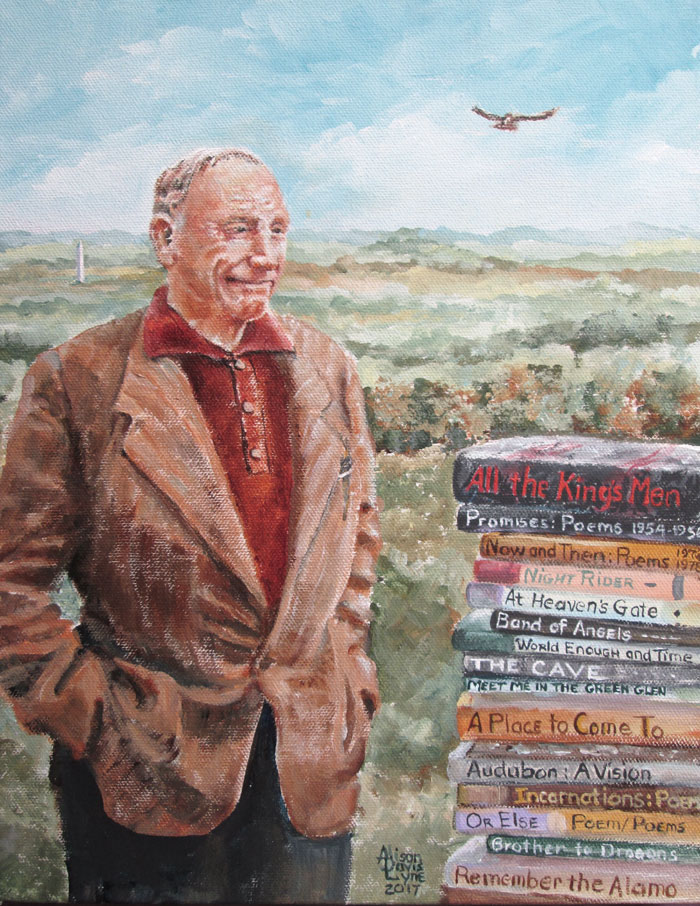 "W" is for Robert Penn Warren
Robert Penn Warren is known for many things, being the first poet laureate of the US, being the only writer to have received Pulitzer prizes for both fiction and poetry, but is also known as a Todd Countian. He was born in Guthrie KY in 1905. He is most known as author of numerous novels, one of the most famous is All the King's Men, which speaks about power in politics chronicling the rise in power of Louisiana governor Huey Long. I was SO delighted to get to paint this talented man, and thrilled to get to use as my source a family photo provided by the kind Jonathan D. Jeffrey, Department Head of Dept. of Library Special Collections, WKU. I loved the relaxed look of Robert Penn Warren in the photo, like I imagined he might have been when he was visiting "home". I was so pleased that the image was used on an issue of Kentucky Humanities. Here's a bitty blog post about the issue. BLOG POST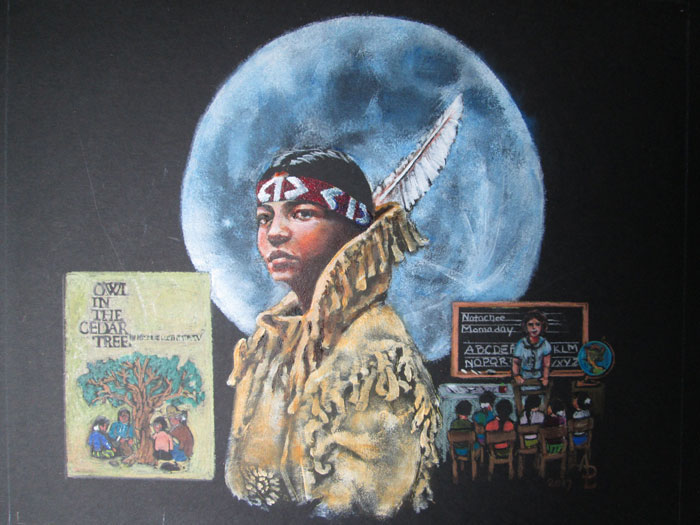 "M" is for Momaday
The Natachee Scott Momaday portrait is in a 16x20 inch matted frame, done in mixed media (coloured pencils, and acrylic paints on black illustration board.) The central image used in this painting is a photo of Natachee Momaday at a young age, dressed in full Native American regalia. Kind permission for it's use was granted by her grand daughter, Jill Momaday, a noted film maker in her own right.
I was fascinated both by Natachee Momaday's strong and beautiful face and the detailing of her regalia in the old black and white photo. I sketched her out and began painting her face along with the detailing of her deer skin shirt, and the feather in her beaded head dress. I thought that making the head dress red would be quite striking against the moon backdrop. Natachee Momaday showed she identified with her Native American heritage first with her being given the childhood nickname "Little Moon" to the adoption of her adult name, Natachee, (in honor of a Cherokee ancestress).
To further visually tell her story, I sketched out in coloured pencils the cover of her children's book, Owl in the Cedar Tree. I also included a made up sketch of Natachee Momaday teaching school on the Navajo Reservation in New Mexico, where she lived with her husband Alfred Momaday. Their only child N Scott Momaday grew up to be a noted Native American author and winner of the Pulitzer Prize, for House Made of Dawn.
I was honored to get to try to tell a bit of Natachee Momaday's visual story. Ever since I got to illustrate children's picture book written by another Cherokee educator, I've been fascinated with Native American clothing and design. I learned that often Native American "stories" are told via their oral tradition of storytelling, their dance and even the details and designs found on their clothing or fancy regalia. But, the nice thing about illustration, is by my artist choices, I can add in specific details and text to further the range of of what I can tell about a person.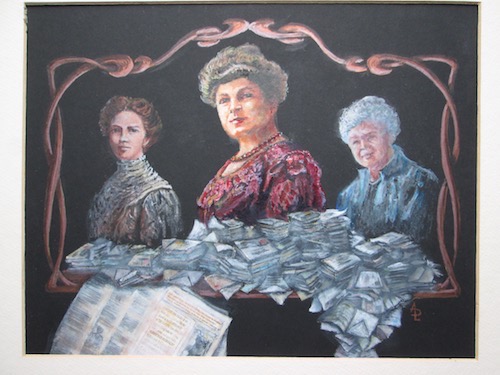 "D" Is for "Dorothy DIx"
In a 16 by 20 matted frame, the Dorothy Dix portrait(s) is in a mixed media using colored pencils, acrylic paints, and a bit of printed text all on a black illustration board. The images used are with kind permission of the Austin Peay State University's Felix G. Woodward Library, Archives, and Special Collections. After reading about Dorothy Dix, I found a brief search revealed lovely black and white photos of Ms. Dix as well as a whole collection for Dorothy Dix from the Austin Peay Archives were already online. Discovering Ms. Dix became the first American woman to achieve millionaire status through her own efforts also served to pique my interest. For the artwork, I decided to show Ms. Dix in the three main phases of her career – married life, emerging journalistic success of her column, and success and syndication. I selected pictures in her early 30s, 40s, and her 80s. Portraiture is of necessity somewhat shallow since the main emphasis is on the face and features. I loved being able to show the progression over time of her face, and in her clothes, but it was the change of expressions that really told her story.
As an illustrator, I am able to choose "props" that further the visual story. For Ms. Dix, I chose an "art deco" style border to tie together the three portraits as she started out in Edwardian times. The time period also guided my choice of the color mauve to serve as an anchor for the painting of the black and white photos of Ms. Dix. I also included a pile of letters from her readers and a bit of newspaper with quotes from her career, along with a visual credit to the Austin Peay State University's Felix G. Woodward Library, Archives, and Special Collections. Using various art techniques, I made sure the central portrait, of her at the height of her career, showed up the most so I arranged the visual props to center on that portrait. I also wrote two blog posts talking more about the art techniques used. The first is link blog http://lyneartblog.blogspot.com/2017/05/dorothy-dix-project.html, and the second link is http://lyneartblog.blogspot.com/2017/10/dorothy-dix-project-finish.html. A visual portrait cannot convey concrete details about the entire life of a person; however, it can give a glance of what that person was like and will hopefully inspire a viewer to find out more about the subject. One of the best parts of doing historical portraiture is "getting to know" such interesting folks, no matter when they lived.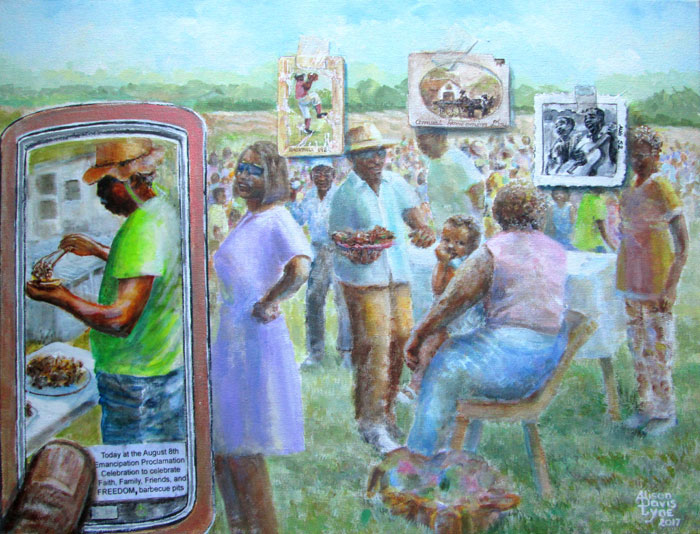 "E" is for Emancipation Day Celebration
Sized 18 by 24 inches, I call the "E Is for Emancipation Celebration" painting "August 8th– Whenever." Since my role is to tell a story in pictures, I wanted to show this gathering had a history dating in time to the 1870s, so I depicted a lot of people attending, stretching "back into the past" in the background. I pulled a lot of historical info from Judy Lyne's Logan Links newsletter. In the January 2016 Logan Links' article on Todd County, the main reference was an article by Mrs. Nellie Lee McClain on the August 8th Celebration. Baseball, music, and food were some of the main elements recalled of the celebration. The first of the small images that looks like they have been taped to the painting is of an old and worn baseball card showing a black pitcher; it reads "Baseball 192" with the exact year rubbed out. (You'll note that right under that is an image "suggesting" the late Pete Morton, Sr., a beloved member of the Allensville community.) The second small image represents an 1870 tintype in a "coming apart" cardboard frame. The tintype reveals a couple with a horse and wagon parked in front of a barn, like the one used for the gathering, in the early days of the Celebration. The handwritten text says "Annual Homecoming Day". The third image is of an August 1952 black and white photo with a couple of local band performers playing a guitar and an accordion. Of course, the left-hand image is a cell phone with a picture of the barbecue along with some text as if the person is posting on Facebook about the current day's events. From a technical standpoint, I had "fun" doing the "fool-the-eye" technique of making the individual images look like they have been taped to the canvas. It was also fun making up the slightly "out of focus" individuals having fun at the event, the main "background" of the painting. The only item actually glued to the painting is the text on the cell phone, and it is secured under three layers of clear gloss paint. All of the images are 'created' and not of any actual folks, just memories of interesting people I have met or seen in my past. I really enjoyed weaving together the historical info with scenes of a happy gathering. I was also pleased to paint a historical painting made up of so many layers.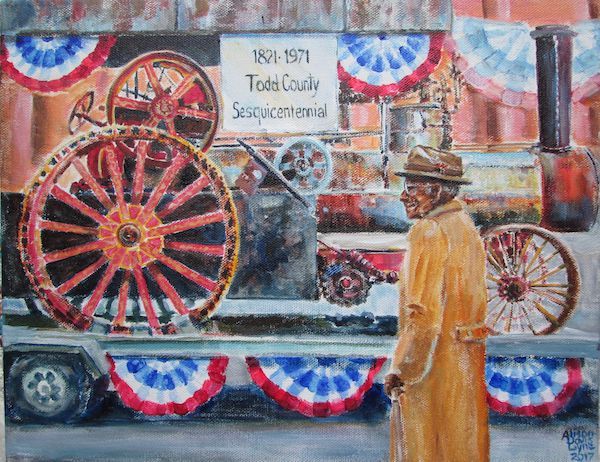 "K" is for Dan Kenner and the Todd County Sesquicentennial
This 11 x 14 inch acrylic painting on canvas depicts the "oldest living (in 1970) man in America to operate a steam engine" Todd county farmer, Dan Kenner. Dan Kenner is shown in the painting watching an antique tractor float go by in Todd County's Sesquicentennial (150 year) celebration in April 1971. The Sesquicentennial Celebration recognized Todd county's 150 years of existence with many contests, parties, pageants and parades. I had a great time painting the colorful red, white, and blue bunting, the fancy steam engine tractor on the float and painting the quiet dignity of Dan Kenner.
To purchase a copy of T is for Todd county please visit:
https://historictoddcounty.com/2018/08/24/t-is-for-todd-county-book/
All artwork is copyrighted by the artist
return to – Lyneart home – Alison Lyne Illustrations-Frank's Page – Portfolio Page
To contact me just email me at alison@lyneart.com