Alison Davis Lyne's
Wildlife Art
These are a collection of wildlife paintings that I've done in the past years. Most, if not all, are from photos that Frank has taken. On some I have taken a bit of artistic license, but all have been a joy to work on. I learn SO much about each animal by painting their portraits.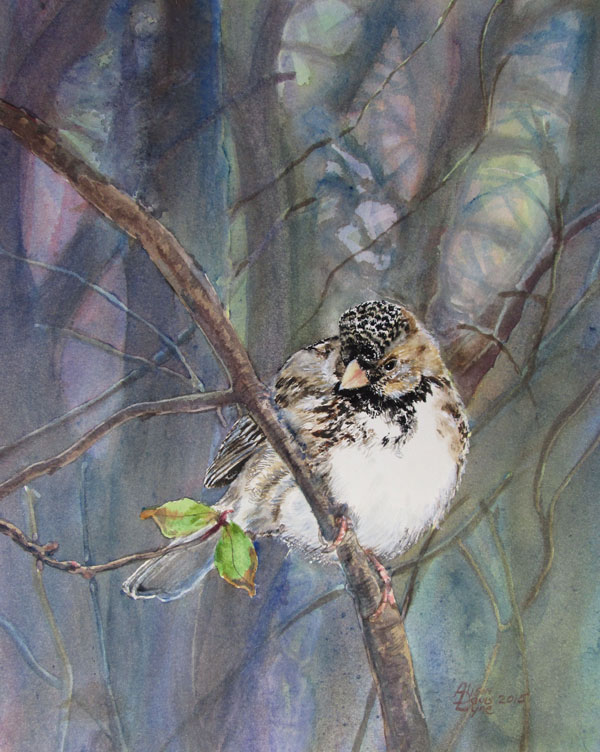 Jeeves-Full Glamour Shot
Watercolor – 16 x 20 inches – Not for Sale
This is my second portrait of a winter visitor, Jeeves. He is named that because his distinctive Harris sparrow black bib and the lovely contrasting pink bill look extremely dapper. We had been binge watching old Jeeves and Wooster episodes, and we knew right then we had a name! Jeeves has wintered over with us here in Kentucky, which is a very rare occurrence. We've enjoyed watching out for him every day, and getting to meet the many birders who have come to get a glimpse of Jeeves. Frank has enjoyed working on viewing/feeding stations for Jeeves to feed at and to allow visiting birders easy access for viewing.
Frank took the source photo I used in this painting, and has documented Jeeves stay in his Flickr photo-stream.
This PipeVine Swallowtail butterfly is painted from one of Frank's photos. I added in a few more flowers and showed our barn in the background. I also added a bit of painted iridescence on the butterfly's wings......he really showed out in the sunlight.

Butterfly $150 - Acrylic paints and colored pencils on black illustration board 7 x 21 inches



Both of these paintings are about birds with "attitude". The brown thrasher on the left is eyeing the three ladybugs with a mind to eat them for dinner! But he is having second thoughts......ladybugs taste and smell BAD when munched on. And the ladybugs seem to know this......one is flipping his wings at the bird.......almost like he's saying …..."Come on....make my day!"
The gull on the right is showing a little 'tude in claiming that spot in the parking lot, against all comers. He must have found a tasty tibet on the ground and he wanted it all for himself!

LadyBugs: 3 Brown Thrasher: 0

$150 – Acrylic and a bit of colored pencil on masonite






That's MY Parking Space

$150 – Watercolor and Colored Pencil




Yellow Breasted Chat $300. -- Watercolor -- 16 x 20 inches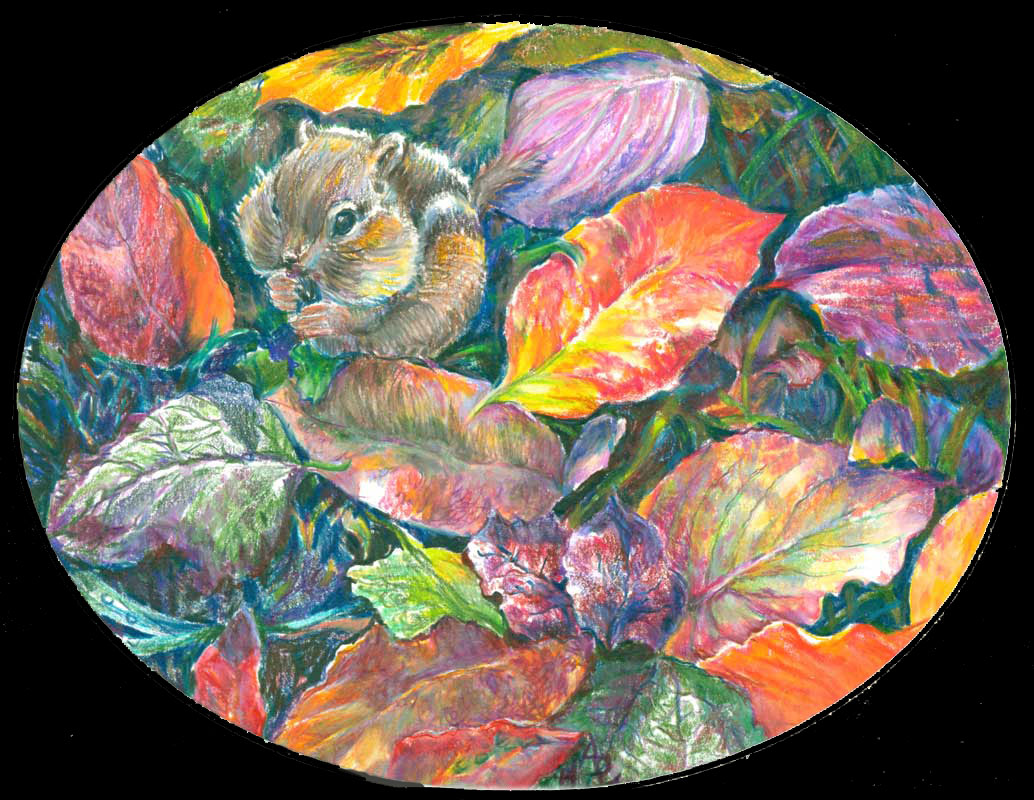 Chubby Cheeks: $200 : Mixed Media (colored pencil on bristol board) measures 11 x 14 inches

All My Ducks in a Row : $200 : Mixed Media (colored pencil on black illustration board with a touch of gouche) measures 7 x 21 inches

"
Raindrops Keep Fallin' on my......."
$200. Mixed Media (colored pencil on black illustration board)
measures 7 x 21 inches
Ruffy - $200. - mixed media (colored pencil, acrylic glaze, touch of gold leaf) – 8 x 10 inches
Most of the wildlife paintings shown here were done after I got married and moved to the country. Most of the sightings I have gotten photos from, and painted from, occurred on our farm. There is such a rich variety of wildlife even on cultivated land, if you know where to look. The ponds on our farm provide a great opportunity for bird sightings. The Great Blue Heron featured in "Ghost Glider" flies over our pond on a regular basis in the summer.
The watercolors Kestrel Fledgling" and "Are you looking at me?" come from a series of photos taken of four Kestrel fledglings that raised up in a barn on our farm. Alerted by the cries of the parents, we saw them ushering the chicks off the nest. The slightly dazed chicks flew just a short way from the barn and settled on some outbuildings nearby. They stayed around the barn for most of the day till they got their bearings and began exploring the world. The watercolor "Are you looking at me?" is of the last chick looking fearfully out of the nest box, scared to go and scared to stay. He finally plucked up his courage and flew out to his new life.
We also have numerous other bird species that are regulars on our farm. This bunch of white crowned sparrows were messing about in our snow covered barn lot.
Ghost Glider: $600: Acrylic on gessoed masonite: measures 24 x 30 inches
Kestrel Fledgling: $150: Watercolor on Clay board 9 x 12 inches----Are you looking at me?$150: watercolor: 9 x 12 inches----White Crowned Sparrows $50 Watercolor 11 x 14"
all materials shown here are copyrighted by the artist
return to - Lyne Art main page- Frank Lyne's Wood Carvings - Alison Lyne's illustration