Minuet by Frank Lyne
Fall 1996 - top image cherry, bottom image bronze - 8.5 x 6 x 6.75 inches - $500 (wood)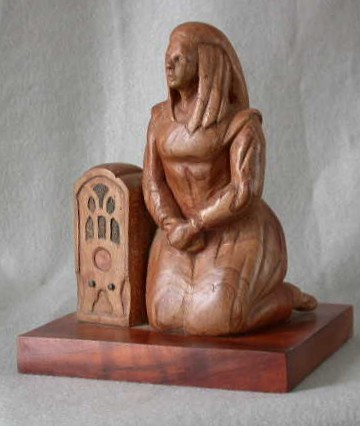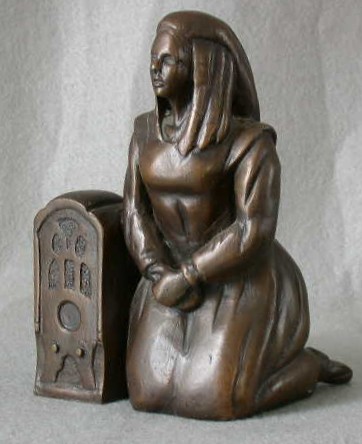 This miniature wood sculpture of a girl listening to a circa 1930s radio is the only one of my carvings that I have had cast in bronze. Peregrine Falcon #2, which can be seen on our personal page, was copied in bronze by the purchaser. Having this bronze of Minuet cast helped to give me a little better understanding of the casting process and the considerations to keep in mind when making a wood original intended to be a master copy for a bronze casting.
The main thing to keep in mind is to have a surface that's smooth enough to be easily separated from the rubber mold. The surface should also be well sealed. I put two or more coats of Formby's low gloss Tung Oil Finish on all my carvings. At the foundry, a layer of Johnson's wax was added to be sure there would be no problem in separating the carving from the rubber mold. When I got my carving back I couldn't tell that this process had made any change in the surface texture or appearance of the wood original.
Another consideration is that deeply undercut surfaces may necessitate more divisions of the mold. More divisions is not a limiting factor but it will take more foundry labor and thus be more expensive to cast. This carving only required a simple, two piece mold.
I have discovered through conversations over the years that it's not generally understood that a bronze copy can be made from a wood original without harming the original. The bronze that I had made serves as my personal demonstration that it can be done.
Most of my carvings could potentially be reproduced in bronze, but wood is and will continue to be the sculptural medium I prefer for making my original works. This is apt to exclude me from most public commissions since the scale such work calls for is beyond the easy scope of wood. I admire sculptors who can work on the heroic scale that public commissions usually require. Of the sculptors in my region who can work on a large scale Ed Hamilton is my favorite.
My bronze was made at Bright Foundry, 1621 East Washington Street, Louisville KY, 40206 - phone 502-589-4337. The Bright Foundry was started in 1955 by Louisville sculptor Barney Bright to insure the highest quality of his own bronze castings. It's now owned and operated by Barney Bright's son Jep Bright.
return to - Lyne Art - Frank Lyne wood carvings - Alison Davis Lyne illustrations