Alison Davis Lyne's Visual Book Review
of Autumn Winifred Oliver Does Things Different by Kristin O'Donnell Tubb
Autunm Winifred Oliver Does things Different is the story of how Cades Cove, Tennessee came to be a part of the Great Smokey Mountians National Park. It is also the story of the part that Autumn's Gramps, and other Cade Coves residents, had in making that happen. And of course the story of one summer in the life of.......
Autumn Winifred Oliver
The story starts one afternoon with Autumn finding out she wasn't attending her own funeral, after which she went on to show off her problem solving skills, as in the title of the book she".....Does things Different". To keep maurading geese from eating her Gramps' tomatos she applies her own personal solution......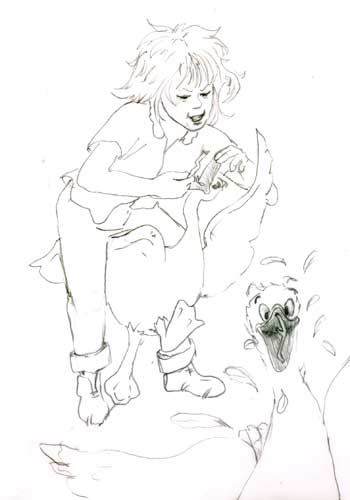 (*Note* no geese were harmed in the making of this scene)
After fixing that problem, Autumn decides to cheer herself up by taking a wild white water rafting trip in a pine coffin, along with new found friend Cody.....
Since this little side trip also didn't end up with Autumn's funeral she goes on to meet and get her hair ruffled by the president of the United States Franklin Delano Roosevelt!
Of course inbetween all these adventures, author Kristin O'Donnell Tubb, manages to get in the story about the people of Cades Cove giving up their home lands to be come part of the Great Smokey Mountians National Park for all of us to enjoy today.
To see more about Autumn Winifred Oliver's adventures please visit Kristin O'Donnell Tubbs page.
return to - Lyne art - Alison Lyne illustrations - Frank Lyne sculpture-Portfolio Page
To contact me just email me at alison@lyneart.com